What is a Hammertoe?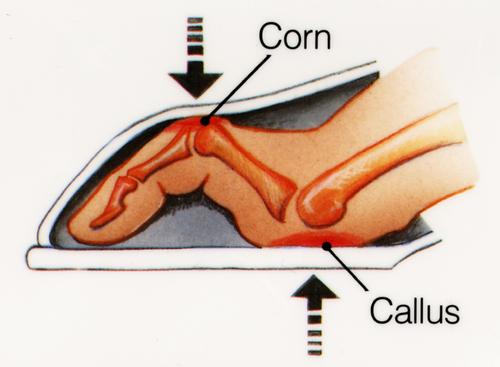 Hammertoes are a contracture of the toes as a result of a muscle imbalance between the tendons on the top and the tendons on the bottom of the toe. They can be flexible or rigid in nature. When they are rigid, it is not possible to straighten the toe out by manipulating it. Frequently, they develop corns on the top of the toe as a result of rubbing on the shoe. They may also cause a bothersome callous on the ball of the foot. This occurs as a result of the toe pressing downward on the bone behind the toe. This area then becomes prominent and the pressure of the bone against the ground causes a callous to form. ( Corns and Calluses )
Causes of Hammertoes
Tight shoes are the most common cause of these toe problems. Wearing tight shoes can cause the toe muscles to get out of balance. Two muscles work together to straighten and bend the toes. If a shoe forces a toe to stay in a bent position for too long, the muscles tighten and the tendons shorten (contract). This makes it harder to straighten the toe. Over time, the toe muscles cannot straighten the toe, even if you are not wearing shoes.
Less Common Causes are:
Problems in foot structure at birth. This may run in families.
Joint diseases, such as rheumatoid arthritis .
Brain, spinal cord, or nerve injury (especially in the case of claw toe). Examples include stroke , cerebral palsy , and degenerative disc disease .
Not using your toe. Having to stay in bed for a long period of time may cause muscles to shorten ( contractures ). This may lead to toe problems.
Poor blood flow to your feet ( peripheral arterial disease ).
Having little or no "feeling" in your feet ( peripheral neuropathy ). This is common in people with diabetes.
Injury, such as breaking a toe.
Symptoms of a Hammertoe
A hammer toe is a toe that bends down toward the floor at the middle toe joint. It usually happens in the second toe. This causes the middle toe joint to rise up. Hammer toes often occur with bunions.
Treatment of a Hammertoe
A number of approaches can be undertaken to the manage a hammer toe:
it is important that any footwear advice is followed. The correct amount of space in the toe box will allow room for the toes to function without excessive pressure.
if a corn is present, this will need to be treated.
if the toe is still flexible, it may be possible to use splints or tape to try and correct the toe. Without correct fitting footwear , this is often unsuccessful.
padding is often used to get pressure off the toe to help the symptoms.
if conservative treatment is unsuccessful at helping the symptoms, surgery is often a good option.